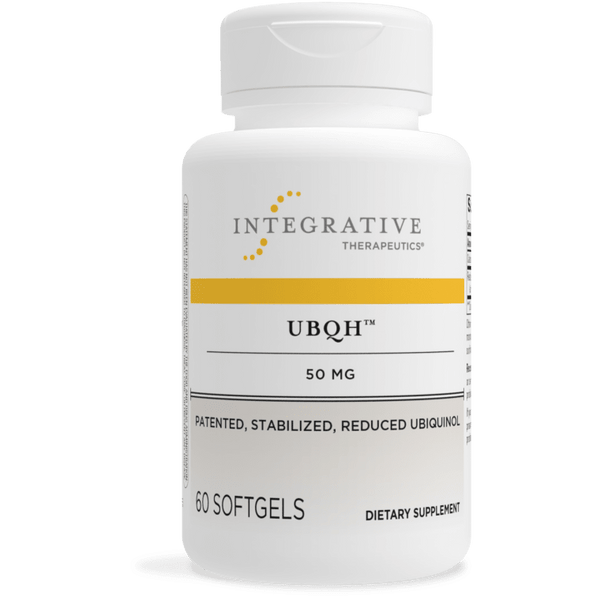 Description

Function

Formula
Ubiquinone (Coenzyme Q10, CoQ10) and Ubiquinol (QH) are closely related compounds naturally occurring in the human body. CoQ10 is converted to its active form, QH, as a necessary and essential step in the production of cellular energy. The conversion rate of CoQ10 to QH tends to decline with age, resulting in lower serum levels of QH. A genetic trait in the human population has also been linked to impaired ability to conduct this conversion. QH outside the body is an extremely unstable compound, converting to CoQ10 upon exposure to oxygen. New research has led to the development of a method to stabilize QH while protecting it from oxygen. UBQH contains this patent pending, stabilized, active ubiquinol, which has been shown to have greater bioactivity than CoQ10.
Among the special features of the UBQH formula are:
Exclusive, patented formulation containing ubiquinol
Efficient delivery system – especially important for individuals requiring high dose CoQ10
Demonstrated to increase plasma levels of total CoQ10 up to 162% versus CoQ10
Patented processing method prevents oxidation and ensures a stable product
No significant adverse effects reported during safety and toxicological studies
Studies have shown that supplemental QH may have the same health benefits as CoQ10, in a more active form, since one step in the conversion process of CoQ10 to QH is eliminated. Scientific studies of QH have additionally found that it provides support for healthy aging, and increases stamina and energy.
Bioavailability studies in humans are ongoing. The amount of plasma and brain levels CoQ10 increase compared with oral CoQ10 is variable, and based on age and genetics. However, results to date have found that intake of active QH is associated with total serum CoQ10 (ubiquinone plus ubiquinol) levels at least 2 times higher than oxidized CoQ10.
These statements have not been evaluated by the Food and Drug Administration. This product is not intended to diagnose, treat, cure, or prevent any disease.