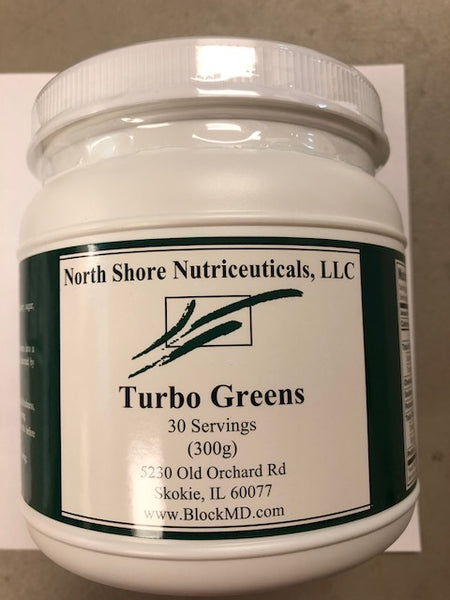 Description

Function

Formula
Turbo Greens is a powerful green food supplement made with primarily organic vegetables, pesticide-and residue-free, grown in the states of Oregon and Utah. Using a non-heat process, they are juiced and dried in the fields right after harvest. A 2-tablespoon serving, twice daily, provides the phytochemical equivalent of approximately one and a half pounds of vegetables.
All of the raw materials used in Turbo Greens are grown under organic practices. No chemicals are added to the soil or to the plant itself. The vegetables are lightly rinsed to remove any residue, but not washed so as to remain intact without adding any soaps or chemical rinses. All but a few of the ingredients are "certified" organic, but organic standards are used for growing all of the raw materials used in Turbo Greens.
Turbo Greens provides a wide variety of vitamins, minerals, enzymes, essential amino acids, and many other important phytonutrients. Gluten-free grasses and chlorella supply chlorophyll, carotenes, B-vitamins, and trace elements. Cruciferous vegetables provide sulforophane compounds known for their ability to induce phase 2 detoxifying enzymes. The probiotics, Friendly Trio (L. acidophilus, B. bifidum, B. longum) and Lactobacillus sporogenes provide good bacteria for a healthy GI tract.
Serving size: 2 tbsp (10g)
Servings per container: 30
Contains: Organic cruciferous vegetable blend (broccoli, kale, parsley, cabbage), organic tomato juice powder, chlorella, organic oatgrass juice powder, organic spinach leaf powder, organic carrot juice powder, organic wheatgrass juice powder, organic beet juice powder, broccoli sprout powder, sweet potato powder, organic barley grass juice powder, BioFirm Trio (L. acidophilus, B. bifidum, B. longum), L. sporgenis, lohan.
Suggested Use:
Turbo Greens can be taken on an empty stomach any time of the day. To make refreshing green drinks, stir 1 scoop (2 tablespoons) in at least 2 oz of any combination of approved fluids. Popular choices include vegetable juices or strong-tasting fruit juices, such as apple, orange, papaya, cherry, pineapple, or grape. If you prefer a thinner consistency or milder taste, simply add more water. Turbo Greens can also be added to soups or pasta sauce just before eating (not during cooking).
These statements have not been evaluated by the Food and Drug Administration. This product is not intended to diagnose, treat, cure, or prevent any disease.