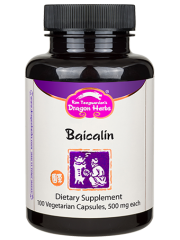 Description

Function

Formula
DESCRIPTION
Scutellaria, also known simply as Scute, is native to the mountains of southwest China and has been used safely for over 2,000 years to promote a healthy inflammation response and to support cardiovascular health. The yellow bark is rich in baicalin, a highly protective natural ingredient.
FUNCTION
The flavonoid compounds of scutelleria (baicalin, baicalein, and wogonin) contain significant anti-inflammatory and antioxidant effects. Research at numerous prestigious U.S. medical institutions now demonstrates that scutelleria contains some of the most exciting anti-aging and healthy inflammation response molecules known to science.  Interestingly, baicalin is one of the only known naturally-occurring compounds with 12-LOX modulatory activity.  This makes scutelleria a key therapy for promotion of normal cell growth in multiple tissue types within the prostate, brain, pancreas, bladder, breast, liver, colon, and gastric system.
Moreover, scutelleria provides immune support, promotes relaxation without a sedating effect, modulates histamine release, and offers protection to healthy cells during oxidative treatments. As an antioxidant, it is known to be superior to vitamins C and E.
FORMULA
Serving size: 1 capsule
Servings per container: 100 capsules
Scutellaria baicalensis root extract…………….500 mg
These statements have not been evaluated by the Food and Drug Administration. This product is not intended to diagnose, treat, cure, or prevent any disease.