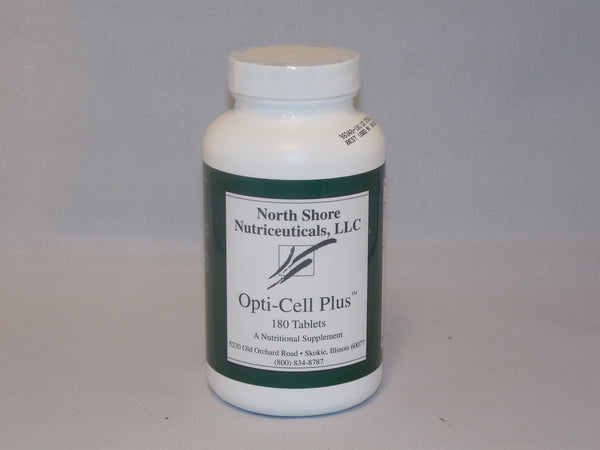 Description

Function

Formula
Opti-Cell Plus is a specialized antioxidant supplement, uniquely formulated by our researchers. Extensive research has shown the potentially beneficial effects of antioxidants, which are naturally found in fruits and vegetables, on many aspects of healthy aging. Antioxidants work to block free radicals, which in excess, can produce harmful oxidation and potentially damage healthy cells.
The ingredients in Opti-Cell Plus are specifically aimed at promoting immune enhancement, wound healing, and bone health and maintenance.   Because of the actions of these ingredients, Opti-Cell Plus and the agents it contain may enhance quality of life in the face of many physiological stresses.
Because recent studies show that antioxidants work more efficiently in unison, we have included a 2,900 mg proprietary blend of standardized botanical extracts to increase antioxidant potency, including green tea extracts, red wine grapes, milk thistle, bilberry, curcumin and citrus bioflavonoids.   Antioxidants are important for reducing the body's oxidative assaults. Opti-Cell Plus offers a comprehensive range and quantity of nutrients to address these assaults with therapeutic doses of vitamin C, lipoic acid, CoQ10, Acetyl-L-Carnitine, L-Taurine and N-Acetyl-Cysteine.
Serving size: 6 tablets
Servings per container: 30
| | |
| --- | --- |
| Vitamin C | 800mg |
| Calcium | 65mg |
| Magnesium | 4.5mg |
| L-taurine | 700mg |
| N-Acetyl Cysteine | 700mg |
| Alpha Lipoic Acid | 350mg |
| Coenzyme Q10 | 75mg |
| Acetyl L-carnitine | 30mg |
| Proprietary blend: Green tea extract (decaffeinated), Bilberry, Proanthocyanidins (Red wine grapes), Pine bark extract, Hawthorne, Milk thistle, Curcumin, Citrus bioflavonoid complex, Rutin, Quercitin, and Wheat sprouts. | |
Suggested Use:
Take two tablets, three times daily with food, or as directed by your healthcare professional.
These statements have not been evaluated by the Food and Drug Administration. This product is not intended to diagnose, treat, cure, or prevent any disease.