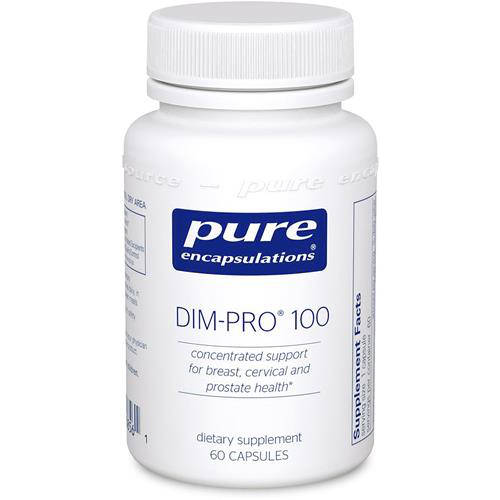 Description

Function

Formula
Absorbable 3,3-Diindolylmethane (DIM®) in supplemental form supports the enzymatic basis of healthy estrogen metabolism. This DIM formula is protected by a U.S patent for its effects on hormone metabolism and for its formulation method which supports bioavailability. Furthermore, this U.S. and internationally patented DIM® formulation has been used in published and on-going clinical trials which have substantiated the positive metabolic effects for estrogen metabolism.
3,3 Diindolylmethane is a dietary indole which occurs naturally in Brassica vegetables. Brassica vegetables are also known as cruciferous vegetables and include broccoli, cauliflower, cabbage, turnips, kale and Brussels sprouts. These vegetables are considered by many scientists to be some of the most metabolically healthy foods due to their unique profile of naturally occurring biochemicals.
Diindolylmethane is a stable dimer (double molecule) of indole-3-carbinol (I3C), which is generated upon hydrolysis of glucobrassicin, the indole glucosinolate in Brassica vegetables. Diindolylmethane has been shown to have beneficial interactions with CYP1A1 enzyme activity in-vitro, which is believed to help mediate its positive effects on estrogen metabolism.
DIM® supplements have become increasingly popular in recent years to support healthy estrogen metabolism. However, other forms of Diindolylmethane have not been clinically studied for estrogenic-interactions or for bioavailability. BioResponse-DIM® is the form of Diindolylmethane used in our supplements, and has been used in published trials for estrogen metabolism. These trials found that DIM® promoted the formation of healthful forms of estrogen. Furthermore, BioResponse-DIM® has been used in bioavailability studies and has been found to promote bioavailability over crystalline Diindolylmethane.
Supplemental Facts
Amount Per Serving:each vegetarian capsule contains:

diindolylmethane complex 

100 mg

(complex of starch, diindolylmethane, d-alpha tocopheryl succinate, phosphatidylcholine and silica)

(standardized to contain 25% diindolylmethane)

25 mg.

other ingredients: hypoallergenic plant fiber (cellulose), ascorbyl palmitate, vegetarian capsule (cellulose, water)
Contains Soy.
Not to be taken by pregnant or lactating women. Consult a health professional before taking this or any other product.
Natural color variations may occu
60 capsules per bottle
These statements have not been evaluated by the Food and Drug Administration. This product is not intended to diagnose, treat, cure, or prevent any disease.