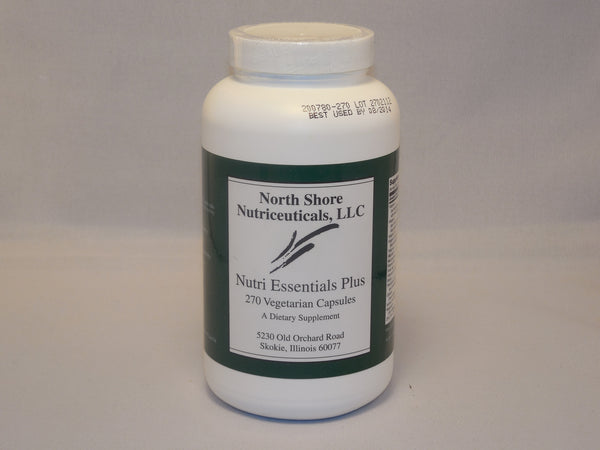 Description

Function

Formula
Nutri-Essentials Plus contains a wide range of ingredients intended to support the body's natural intake of nutrients. This multi-vitamin in conjunction with a healthy diet is designed to help provide the essential daily nutrients needed for optimal health. Many of the ingredients in this multi-vitamin are believed to aid in immune support and may also be beneficial in conjunction with other therapies.
Many ingredients of Nutri-Essentials Plus are believed to support bone maintenance, circulation, metabolism, nerve and muscle function, healthy cell structure and growth, cardiovascular health, blood pressure control, normal blood sugar levels, and in slowing the general aging process.
Nutri-Essentials Plus provides vitamin C from fat-and water-soluble ascorbyl palmitate to increase absorption of vitamin C. Vitamin D is part of the formula to enable the body to more readily absorb calcium. The B vitamins are lower than what you see in many multivitamin formulas in response to new research providing more direction in dosing. This formula has also been adjusted to provide Vitamin A strictly sourced from beta-carotene.
Nutri-Essentials Plus is a comprehensive, balanced, high therapeutic multivitamin, multimineral that also provides phytochemicals with antioxidant properties such as lipoic acid and green tea extract.
Serving size: 3 Vegetarian capsule
Servings per container: 90
270 capsules per bottle
Suggested Use: Take 3 Vegetarian capsules 3 times daily or as directed by your healthcare professional.
These statements have not been evaluated by the Food and Drug Administration. This product is not intended to diagnose, treat, cure, or prevent any disease.