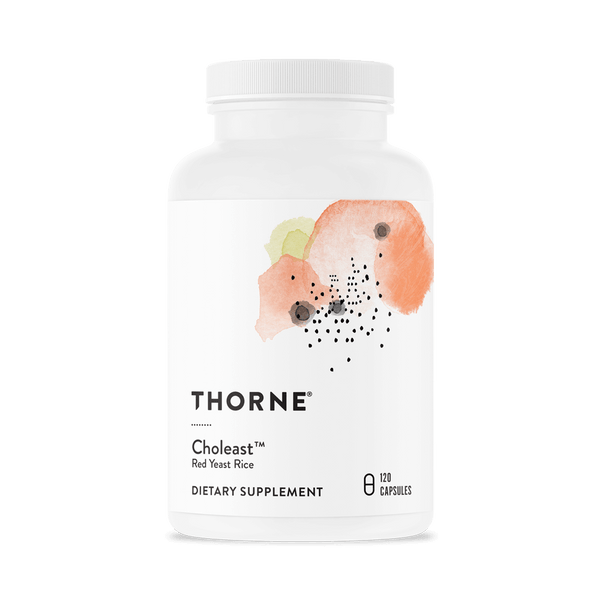 Description

Function

Formula
Choleast™ is derived from Monascus purpureus, an organism grown on rice. After centuries of use in traditional Chinese medicine, it was discovered that red yeast rice inhibits 3-hydoxy-3-methylglutaryl coenzyme A reductase (HMG-CoA-reductase), the rate-limiting enzyme in cholesterol synthesis. .Numerous studies in China and the United States have demonstrated that red yeast rice preparations are helpful in maintaining blood cholesterol levels already in the normal range. This is important, as maintaining optimal cholesterol levels has been shown to be one component of maintaining cardiovascular health.
Red yeast rice contains ten mevinic acids, also known as monacolins. These compounds competitively inhibit 3-hydoxy-3-methylglutaryl coenzyme A reductase (HMG-CoA-reductase), a crucial enzymes in cholesterol synthesis. Red yeast rice contains the phytosterols beta-sitosterol, campesterol, and stigmasterol, as well as isoflavones and trace minerals, all of which can contribute to cardiovascular health.
The same enzymes involved in cholesterol synthesis are also involved in the synthesis of coenzyme Q10 (CoQ10). Thus, to help maintain normal levels of CoQ10, Choleast contains 15 mg CoQ10 per capsule.
Red yeast rice is obtained by a specific process that ferments rice. One of the natural by-products of the rice fermentation process is citrinin, although usually the more sophisticated the fermentation process, the lower the amount of citrinin that is produced as a by-product. Citrinin is a mycotoxin. Because mycotoxins can cause inflammation and other injurious effects in the body, Choleast contains only minimal amounts of citrinin. There are no government standards or guidelines for citrinin content in red yeast rice; however, the generally recognized standard in the industry is less than 1 part per million. Choleast regularly tests at less than 0.05 parts per million, which is less than 1/20th of that standard.
Serving size: 2 capsules
Servings per container: 60
| | |
| --- | --- |
| Red Yeast Rice (Monascus purpureus) | 600 mg |
| Coenzyme Q10 | 15 mg |
Suggested Use:
2 capsules, twice daily
These statements have not been evaluated by the Food and Drug Administration. This product is not intended to diagnose, treat, cure, or prevent any disease.