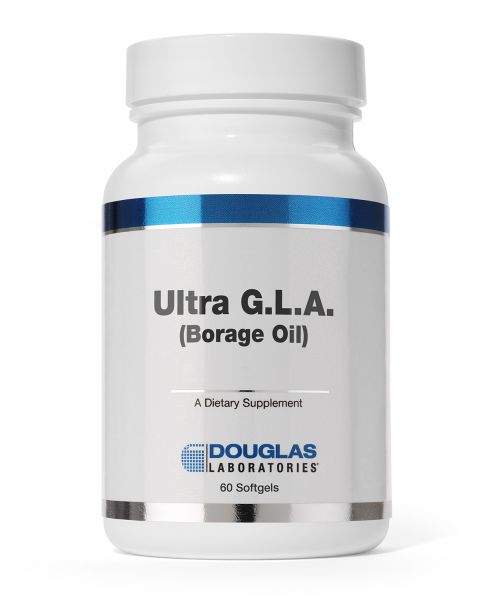 Description

Function

Formula
Borage Seed Oil is an excellent source of the important gamma-linolenic acid (GLA) providing 210 mg of GLA per softgel. Borage Seed Oil softgels are manufactured using only 100% vegetable oil from borage seeds (Borago officinalis). The oil is cold-processed and handled carefully to avoid any oxidation, as indicated by consistently low peroxide values. No solvents such as hexane are used during the extraction and processing.
Typical diets in developed countries deliver large amounts of saturated fatty acids and the polyunsaturated omega-6 linoleic and arachidonic acids. Dietary linoleic acid (18:2 omega-6) is a precursor to arachidonic acid (20:4) which in turn is a precursor for pro-inflammatory immune mediators, the 2-series prostaglandins, thromboxanes and leukotrienes. Although GLA is a precursor of arachidonic acid, it also competes with arachidonic acid effectively, and contributes to formation of normal levels of pro-inflammatory 2-series prostaglandins and other immune mediators.
Serving size: 1 capsule (Borage oil 1200 mg)
Servings per container: 90
Supplement Facts, Amount Per Serving:
Serving Size 1 Softgel
each serving contains:

Calories

9

Total Fat

1 g

Vitamin E

10 IU

Borage Oil

1,200 mg

Providing the following fatty acid profile:

Gamma Linolenic Acid (GLA)

240 mg

Linoleic Acid (LA)

431 mg

Oleic Acid (OA)

228 mg

Stearic Acid

52 mg

Hexadecenoic Acid

2 mg

Palmitic Acid

133 mg

Icosenoic Acid

52 mg

Docosenoic Acid

32 mg

Tetracosenoic Acid

19 mg

Other ingredients: Gelatin (capsule) and distilled water.

Take 2 capsules three times daily, or as recommended by your healthcare professional.
These statements have not been evaluated by the Food and Drug Administration. This product is not intended to diagnose, treat, cure, or prevent any disease.