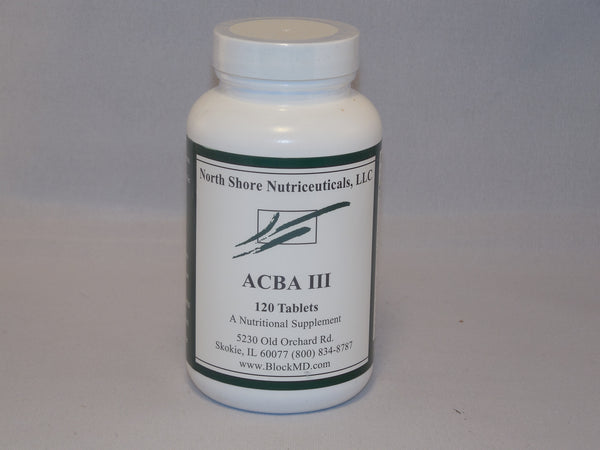 Description

Function

Formula
ACBA III is a blend of ten medicinal herbs based on the traditional Chinese formula Shi-Quan-Da-Bu-Tang (SQT, or 10 significant tonics decoction). This powerful product was originally formulated by the Public Welfare Pharmacy Bureau during the Chinese Song Dynasty in 1200 AD, and has withstood centuries of applications. ACBA III is based on this original effective formula, but has been modified and adjusted to appropriate herbal doses and levels to help reduce fatigue, bolster the immune system, and support the body during stressful conditions.
ACBA III is an herbal combination that has traditionally been prescribed in Chinese medicine for weak appetite, extreme exhaustion, functional support of the liver, spleen and kidney, and general weakness, particularly during recovery from illness. ACBA has an adaptogenic function believed to help increase vital energy, especially in times when the body's system is stressed. It also helps support immune system function.
The immune system can be stressed due to many factors including environmental pollutants and other toxic substances, physical tension and unhealthy lifestyles. ACBA III is designed to support immunity using uncontaminated and highly active herbs.
Serving size: 4 tablets
Servings per container: 30
Milk Thistle (standardized to 80% silymarin)
200mg
L-Theanine (Sun Theanine®)
200mg
Rhodiola (standardized)
100mg
Eleuthero (standardized Siberian ginseng)
100mg
Alpha Lipoic Acid
100mg
Sensoril® Ashwaganda (Root/leaf extract standardized to 8% withanolides)
100mg
Proprietary Blend of Ten Significant Tonic: Astragalus membranaceus, Rehmannia glutinosa, Paeonia lactiflora, Linguisticum wallichii, Angelica sinensis, Glycerrhiza uralensis, Poria cocos, Astractylodes macrocephala, Panax ginseng, Cinnamonum cassia.
Suggested Use:
Take 2 capsules, twice daily, or as recommended by your healthcare professional.
These statements have not been evaluated by the Food and Drug Administration. This product is not intended to diagnose, treat, cure, or prevent any disease.