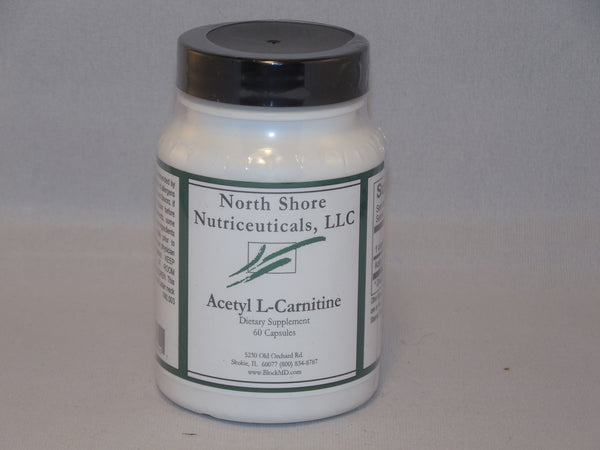 Description

Function

Formula
Acetyl-L-Carnitine is a supplement that has been shown to aid in both cardiovascular and cognitive health. Acetyl-L-carnitine is a naturally occurring compound that supports normal brain and nerve function through various mechanisms. These include its positive effects on acetylcholine synthesis, membrane stability, nerve growth factor production, and cerebral blood flow.
Acetyl-L-carnitine has been shown to play a key role in maintaining normal brain and nerve function during aging. Acetyl-L-carnitine is involved in fatty acid oxidation. L-carnitine shuttles fatty acids from the cytosol (the cell fluid) into the mitochondria (the cell's powerhouses) for oxidation and energy production. Acety- L-carnitine provides a way to carry these groups through the mitochondrial membranes back out into the cytosol so that the energy can be used.
In brain and other nerve tissues, this acetyl group export by acetyl-L-carnitine out of the mitochondria and back into the cytosol is important for the production of acetylcholine and other neurotransmitters that are so crucial for normal function of the brain and nervous system.
Serving size: 1 capsule
Servings per container: 60
| | |
| --- | --- |
| N-Acetyl-L-carnitine HCL | 500mg |
Suggested Use:
One capsule three times daily with food or as directed by your healthcare professional.
These statements have not been evaluated by the Food and Drug Administration. This product is not intended to diagnose, treat, cure, or prevent any disease.